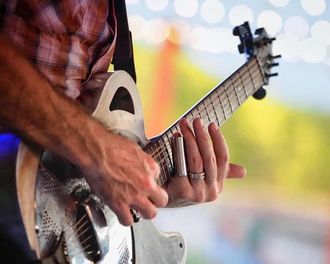 Born in New Orleans, raised traveling the country with his father's work as a pipeline welder, and finally settling in East Texas in his teenage years, Ryan Paul Davis has always been surrounded by art and music. His parents were heavily involved with the arts, with his mother teaching high school English and his father, PD Davis, a songwriter, guitarist, and pianist. Literature and songwriting were instilled in Ryan Paul and his sister from a young age and would later shape his career in music.
Ryan Paul Davis started writing and performing music in his late teens, after watching his father play in public. He knew then that music was the path he wanted to pursue and has since spent over two decades in the industry. When asked about what inspires his creative process, Ryan Paul explains that it is an overwhelming desire to create and move forward with art. He also says that after his father passed away, he became motivated to broaden the audience for his father's music and create a legacy of his own.
Ryan Paul Davis has had numerous memorable experiences throughout his career, including meeting his wife, Stacey Steger, while both performed at a venue in downtown Austin in 2007, and hosting the first tribute show in East Texas in honor of his father in early 2021. When asked about balancing his artistic vision with the commercial demands of the music industry, Ryan Paul explains that he has been relatively free from the burden of having to make major artistic concessions, but the business side of being self-employed and independent is a constant challenge. He emphasizes that his priority is currently developing new material, rather than the outcome of it.
The passing of Ryan Paul's dad in early 2021 was a heartbreaking loss, but it also sparked a beautiful tribute. The first show in his honor, held in East Texas, brought together a diverse array of musicians to pay homage to his music. This annual event has since become a touching celebration of his life and legacy, and it's an incredible testament to the impact he had on the people around him. For Ryan Paul, the tribute show is a reminder of the love and admiration that still surrounds his dad, and it's a truly remarkable experience on every level. This year's tribute is to be held September 30 at Frediona Brewery in Nacogdochas, Texas. 
When asked what inspires his creative process when writing and recording music, Ryan Paul says that it's a difficult question. "I think we all have certain endeavors that we're simply driven toward, and we're left unfulfilled when not pursuing them. For me, that's the creation of songs. When I've spent long stretches without seriously writing, I've experienced emptiness and frustration." He goes on to say that, like many who choose this path, there is simply an overwhelming desire to perpetually create and move forward with art.
Ryan Paul Davis is currently working on an album, which is a big project that is paused at the moment with its projected release in late 2024. He looks forward to getting back to it soon and is excited about what the future holds. Ryan Paul is a dedicated artist who has a passion for creating and is driven by his love for music and literature. His musical journey has been shaped by his upbringing, his experiences, and the relationships he has built along the way. It's clear that he will continue to create, inspire, and leave behind a legacy for his loved ones.
 https://texasmusiccafe.com/rising-son-of-the-piney-woods/